More and more companies are turning to email marketing, laying out huge sums to find the perfect solution to promote their services. Noise becomes more difficult to declare itself.
In the pursuit of popular advertising methods, entrepreneurs often do not rightly forget about the SMS dispatch. This tool is a universal solution for both large companies and small businesses.
The ePochta SMS team has prepared for you a brief overview of ways to improve the quality of cooperation with customers through SMS marketing.
Shares
Research results in 99% indicate that sending messages is an extremely effective tool for increasing sales. After all, 90% of recipients read their SMS within three minutes.
Is it necessary to conduct an effective campaign to sell the promotional product today? SMS mass mailing is the ideal solution! Because on average 50% of the openings of emails will take place only within six hours of sending.
If time does not play a special role, you can consider SMS as an option to support an email campaign, not a complete replacement. Read more about this below …
Marketing campaigns
Every marketer should be familiar with "rule 7". This means that you must "contact" the potential customer in several different places in different ways, so that he seriously thinks about buying. There is no unequivocal opinion about the number of "touches", but it is obvious that the success of the campaign lies in "complexity."
For example, combine the capabilities of SMS mailing with email marketing. Sending information via SMS and e-mail, you can observe the process of interaction of a person with various communication channels. As a result, the full picture of the effectiveness of the methods of influence will open, and you will be able to choose the most suitable one.
Orders
Most companies, for example, Starbucks, allow customers to make mobile payments using applications. But there are those who gave users the opportunity to experience the advantages of SMS services for placing an order. A vivid example is the dispatch from Sushia.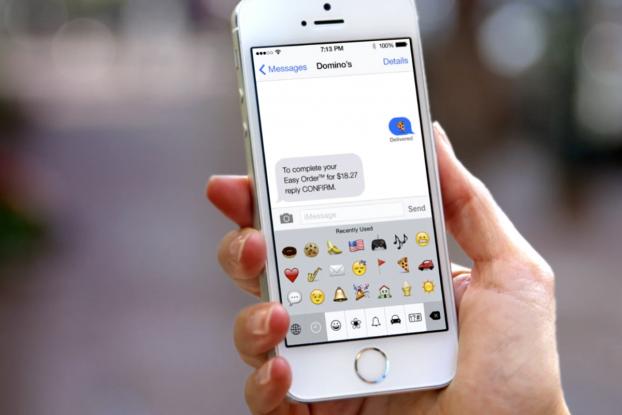 In the case of a "direct" order, it is much easier for the buyer to specify the product code in the SMS, than to fill in the endless forms on the site. Messages by phone are one way to simplify this procedure.
Discount coupons
Creating coupon codes is another headache. Especially this applies to websites that have decided to offer customers promotional codes with the possibility of receiving discounts on services and goods. WooBox solved the problem by introducing one-time certificates (it's commonplace, in fact, besides this, thousands of other companies, restaurants and shops offer it). But, following the example of PassBook, WooBox also provided the opportunity to use SMS as vouchers, which can be exchanged for a cash discount when buying a product. This is worthy of attention, because 10 times more likely that mobile certificates will be redeemed faster than their paper counterparts.
Why make a person sign up for an e-newsletter in order to get the desired discount? In such proposals, "accessibility" is important. Otherwise, it will become a real obstacle to purchase. For example, in case the user refuses to fill an inconvenient form on the smartphone, because he is in an area with poor coverage. This is relevant for large festivals and open-air events, which are organized away from cities in clean air, where communication problems are possible. Making a gift card by SMS will be an excellent method of collecting the database for future mailings.
Gifts
Would you like to congratulate a person on a holiday, but you can not give a gift personally? KungoGift is a virtual gift card sent by SMS. With her help, the client will appreciate your gesture of attention wherever he was. For example, please him with a SMS-offer for a free lunch at his favorite restaurant.
In addition, when using a virtual payment card in a text message, it is impossible for the situation if he went to the store to spend a gift card, but on the way realized that he had forgotten it at home.
Promotion of a new product
Imagine that you have launched a line of a new product and you need to quickly tell about it. SMS sending is a great way to do it.
The advantages of this marketing tool are obvious:
Speed ​​
Scalability
High level of discovery
The ease of the process of moving through links to sites
Personalization of communication
Verification
Often companies use SMS, voice and missed calls as a verification of the phone number. This is an effective method to build a client base with 100% real, certified numbers.
You encountered this by trying to recover your password on Facebook or on Twitter.
Are your customers concerned about the security of information storage? SMS-verification will reliably protect against unauthorized entry or leakage. The proposal to double-check the authenticity of the login so far does not sound particularly attractive, but this is something that people will increasingly strive for in the future.
Reminders
The main trouble that prevents the full operation of the medical clinic and all commercial structures that build their schedule on the basis of pre-recording are "no-shows."
Of course, you can spend time and independently remind you of a meeting with the help of calls and messages. But why, if you reduce the number of these situations with the SMS Automation Automation service. Plan in advance an automatic reminder of the appointment, or inform the staff / customers in this way about changes in the schedule.
Time is money. Therefore, sending out SMS is an effective way to save: organize constant feedback from customers so that you do not waste time in vain and rationally plan your work schedule.
Warnings
Slightly changing the settings of your phone, your customers will be able to receive emails in the form of text messages. As Insteon did, allowing users to receive their notifications (which, as a rule, were sent by mail) in the form of an SMS message.
Tell me what it is for? For example, the service will be useful to those who are in a weak network coverage area, but wants to stay informed.
Customer Support
Customer support service for SMS? It sounds strange, because in most cases telephone calls are used for this. For example, in the US, only 7% of companies use mass mailings as customer support. But still, this method is still relevant, because every day everyone uses SMS, not to mention the rating of reading.
According to statistics, 41% of users are satisfied with the "customer support" service, but 44% efficiency when using telephone calls and 61% of e-mail for this purpose is much higher. True, it is necessary to take into account the fact that the data are taken from only one region.
Thus, sending SMS will effectively establish communication with customers.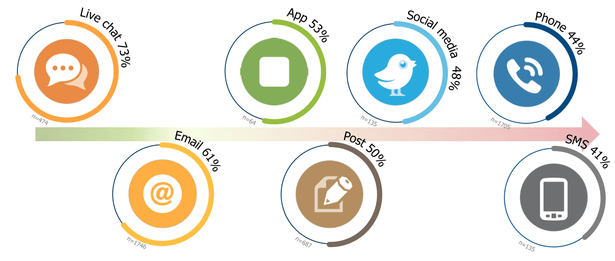 Short polls
Collecting information via SMS may not seem like a particularly good idea. Nevertheless, it is really a good way to explore the market in a short time. TXTImpact, Qualtrics and many other providers create polls that do not require additional resources for registration and analysis of answers.
"The rating of the response to the survey by e-mail is rather low – 25%. If you want to achieve a higher result, you should seriously think about the implementation of micro-polls by mass SMS sending .
Selection of the personnel
Before recruiting was reduced to two forms of interaction with the audience:
Faceless emails that are recipients, well if read, not to mention the answer.
Sudden phone calls from unknown numbers, which, in most cases, will not be answered.
The situation is certainly changing, social networks and LinkedIn are positively influencing this process. Nevertheless, among all the techniques there is still room for SMS-sending. Studies show that 90% of hiring agencies are satisfied with the result they achieved through SMS notifications.
"90% of recruiting companies claim that it was SMS distribution that became the key to their success"
HR
Recently, behind this sphere, the notoriety of losing that very "humanity" is passing. In these conditions, the idea of ​​introducing another element of "technology" sounds strange to say the least.
Anyone who has been associated with this in any way will say that the main cause of all ills is in the "overload" and "understaffing" of departments. The introduction of SMS messaging service will significantly ease the load due to a number of reasons:
First, it is more effective than sending by email. And the brevity of the message will be an advantage for the HR consultant.
Secondly, text messages perfectly proved themselves earlier as the automation of the process of formation and adjustment of appointments.
Thirdly, SMS facilitates the communication process by making it faster and less formal.
Tracking of the goods
For brands Amazon and Argos, delivery services and similar companies, it became the norm to offer customers the opportunity to follow the process of order delivery. In most cases, this is done using SMS.
Thus, you can reduce costs by lost / mistakenly delivered goods.
Aviaservice and hotel registration
From now on, with the help of SMS, your customers will be able not only to register or book a room, but also to request information about the details of arrival and departure of the aircraft, indicating only the flight time and the number in the text of the message. In response, they will receive the information they need about the flight, its delay or cancellation. The service will be useful to those who often travel.
This is a kind of transition from the trend of using exclusively mobile applications for this purpose. A particularly good option, for people who disable data traffic in order to save money.
Important Information
The problem of modern communication on the Internet is the abundance of spam. Sadly, SMS lovers also took part. After all, here you can also get unwanted messages of a strange nature. But in the majority, SMS-information has preserved its reputation of reliability.
For example, Swedbank thus allows you to request information on the balance on the account or other transactions via SMS. British banks also practice this, but in a more passive form.
And this is only the beginning …
We only touched superficially on the variety of options that SMS marketing can help the development of your business.
Carefully analyze your business plan and find weaknesses. Mass SMS distribution can be exactly the solution that you are looking for. In the meantime, it looks at you every time you hear the sound of a notification on your phone.
If you would like to know more about the possibilities of sending SMS within your business, the following information will be relevant for you:
Service of mass mailings of notifications ePochta SMS offers to your attention a series of examples of ready messages for different fields of activity.